Sawarabi Nyosui
Address
84, Nyosuicho, Kamigyo-ku, Kyoto-city, Kyoto post code 602-8231
Rent
1 month JPY60,000~
Access
14 min. walk Imadegawa sta. of Subway Karasuma Line
22 min. walk Marutamachi sta. of Subway Karasuma Line
1 min. walk Kyoto City Bus Stop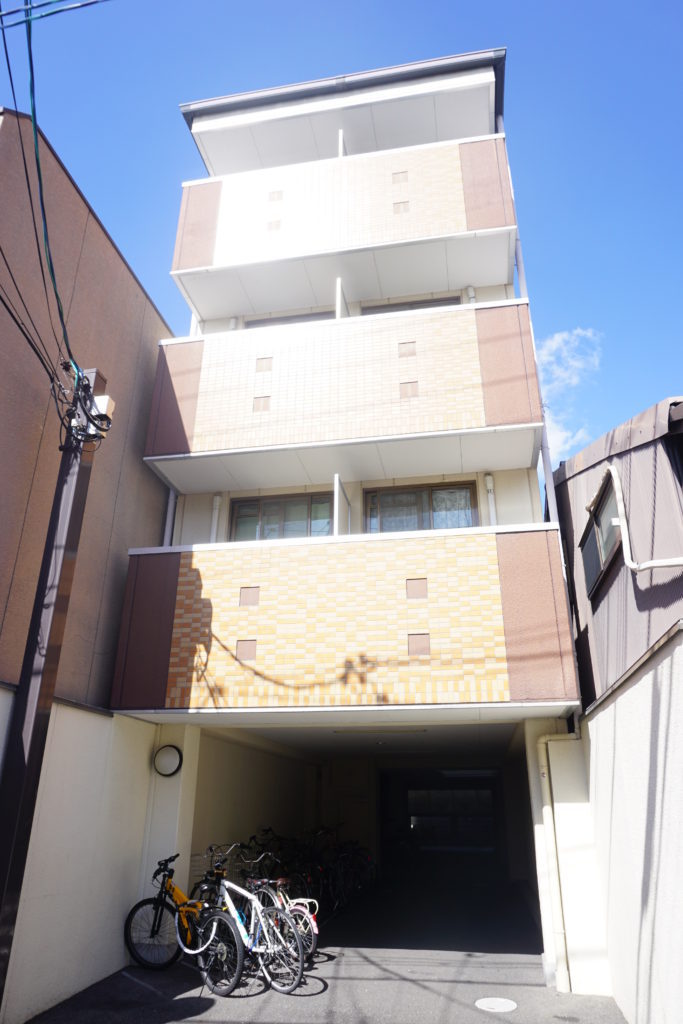 Lease Term
Monthly Cost
Initial Cost
Rent
Maintenance Fee
Cleaning Fee
Security Deposit
1~3 month

JPY62,000

JPY5,000

JPY20,000

JPY30,000

4~12 month

JPY61,000

JPY5,000

JPY24,000

JPY50,000

12 month~

JPY60,000

JPY5,000

JPY26,000

JPY50,000
Other Expenses : Monthly Utility Cost : Water fee is 2,000yen, Gas fee is 3,500yen, Electricity fee is at your own expense.
If your lease term is 1 - 3 months, Gas and Electricity fee will be 8,500yen in total.
Option Service : Rental Bedding 3,000yen/month, Daily Necessities 2,000yen/intial.
In case of sharing, extra rent 7,000yen/month, extra water fee 1,500yen/month, extra gas fee 1,500yen/month and extra clean up fee 3,000yen/initial shall be added. We can prepare additional bedding for co-occupants if you need.
Property Details
Structure :

Steel Framed Building

Year Built :

1997/03

Floor:

4

Size :

18.00㎡

Room Type :

1R

Capacity :

2

Minimum Lease Term :

30

Bed Type :

Semi-double bed

EV:

not available
Features
Furniture :

Chair・Drapes・Table・TV Stand・Cupboard・Semi-Double bed・Hanger rack・Full-leagth Mirror

Room Facilities :

Internet(Free)・Storage・Bath・Shower・Wooden floor・Westen Toilet

Electric Appliances :

Microwave・Air conditioner・TV・Hair Dryer・Refrigerator/Freezer・Washing Machine・Vacuum Cleaner・Electric Kettle

Kitchen :

Gas Stove

Common Area :

Bicycle Parking(Free)・Mail Box
360°View
Map
Additional Details
Available from 13th June 2023 (#201) from 6th July 2023 (#202) from 1st April 2024 (#301) from 16th August 2023 (#302) from 13th June 2023 (#305) from 1st July 2023 (#401) from 1st April 2024 (#402) from 1st July 2023 (#405) (UPDATE:15/3/2023)
Others : Possible to room share for two people (a bicycle per a room), Free wifi is available, No Pet allowed, No smoking

The apartment is very convenient for the guests who go to Kyoto Japanese Language School, ARC Academy, ISI Kyoto Language School, Doshisha University.
The free wifi is available in the apartment!!

School
8 min. walk Kyoto Japanese Language School
6 min. bicycle Doshisha University
8 min. bicycle ARC Academy
11 min. bicycle ISI Kyoto Language School
50 min. bus (Kyoto city bus 9 + Katsurazaka 21) Kyoto University Katsura campus
*You can check how to go to Kyoto University Katsura campus on the map attached to this web page.


Shops
2 min. walk Convenience Store "Family Mart"
4 min. walk UNIQLO
4 min. walk 100yen shop "Daiso"
5 min. walk Supermarket "LIFE"
6 min. walk Drugstore "Ducks"
What our tenants think of the apartment.
all is good

Everything is fine and we really enjoyed our stay.